FOLKESTARTEREN
❤️ Defibrillator rental
❤️ First aid course with CPR and defibrillator
❤️ Regular service
❤️ Exchange of machines
❤️ Products for your defibrillator
❤️ We take care of the technical part
Contact us for more info
DO
LIKE OTTO
Get yourself a defibrillator!
FOLKESTARTEREN
❤️ Defibrillator rental
❤️ First aid course with defibrillator
❤️ Regular service
❤️ Exchange of machines
❤️ We take care of the technical part
Contact us for more info
DO
LIKE OTTO
Get yourself a defibrillator!
FOLKESTARTEREN
❤️ Defibrillator rental
❤️ First aid course with CPR and defibrillator
❤️ Regular service
❤️ Exchange of machines
❤️ We take care of the technical parts
Contact us
DO
LIKE OTTO
Get yourself a defibrillator!
FOLKESTARTEREN
❤️ Defibrillator rental
❤️ First aid course with CPR and defibrillator
❤️ Regular service
❤️ Exchange of machines
❤️ We take care of the technical part
Contact us
DO
LIKE OTTO
Get yourself a defibrillator!
FOLKESTARTEREN
❤️ Leie av hjertestarter
❤️ Førstehjelpskurs med HLR og hjertestarter
❤️ Regelmessig service
❤️ Bytte av maskin
❤️ Vi følger med for deg
Kontakt oss
GJØR SOM
SINNASNEKKER'N
Skaff deg en hjertestarter!
Rent a defibrillator, book a CPR / HSE course and buy first aid equipment at Folkestarteren!
Folkestarteren offers low-cost rental of defibrillators and other first aid equipment. For only NOK 590* a month you get your own defibrillator, a free first aid course with CPR and defibrillator exercises, regular service, replacement of the machine if it is used or not working and our customer service is open to you five days a week. If necessary, we will come to you. You can also buy renewal courses for CPR and defibrillator training.
How to use a defibrillator?
Our defibrillators are easy to use, both for children and adults. You are told easy-to-follow instructions. Watch our demonstration video on using a defibrillator below! NB! The audio is in Norwegian, but has an option for English subtitles.

What does a defibrillator come with?
All our defibrillators come with electrodes, battery, two defibrillator signs, instruction manual and warranty, as well as a free first aid course with CPR and defibrillator. We also sell products for defibrillators in addition, such as cabinets, extra batteries and electrodes.
What does the warranty on defibrillators entail?
Our warranty is a lifetime warranty. No matter what happens to your defibrillator, we will fix or replace it, possibly replace the battery or electrodes. If the defibrillator is used, we will of course replace it - completely free of charge. There are no hidden costs. You don't have to pay to save lives.
We offer Mindray and CardiAid defibrillators
Today we have two different brands of defibrillators: CardiAid and Mindray. All our defibrillators are EU approved and approved for sale in Norway. Most defibrillators on the market today are semi-automatic, simple and designed so that more people can use them.
Mindray
Mindray is a well-known Chinese defibrillator that is small and compact, with a modern design. The defibrillator is tested and ranked in different areas, such as cold temperatures. Due to the design, it is suitable for several circumstances, such as being taken with you in the car, at the cabin or in the mountains.
Our Mindray defibrillators are of the semi-automatic type. It has features such as voice navigation, child mode and self-test. This defibrillator is widespread in Norway and is a good choice. We also sell products for Mindray defibrillators.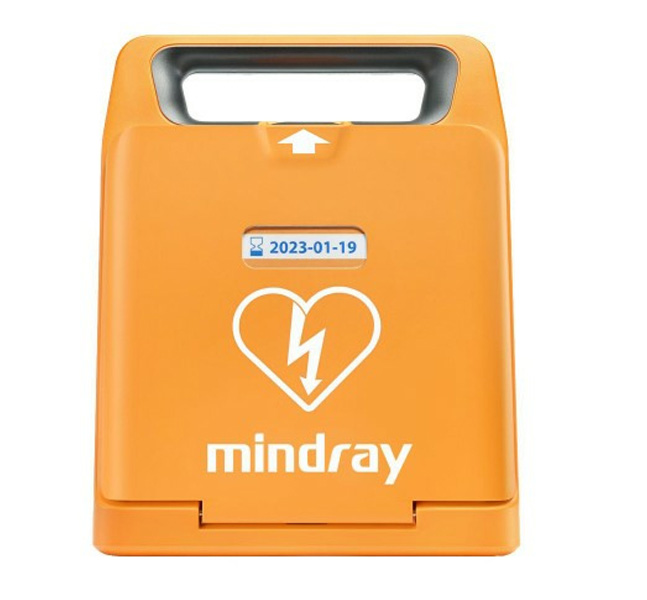 CardiAid
CardiAid is made by Danish Cardia International and guarantees quality. Folkestarteren is one of two that distributes CardiAid in Norway, and we are proud of that. Our CardiAid defibrillators come in a carrying case containing electrodes and battery. Children's electrodes can be bought. Best for Nordic conditions.
CardiAid is semi-automatic. It comes with features such as indicator lights on how the defibrillator is doing, step-by-step instructions and automatically turns on and off when opening/closing, taking no unnecessary time! We also sell products for CardiAid defibrillators.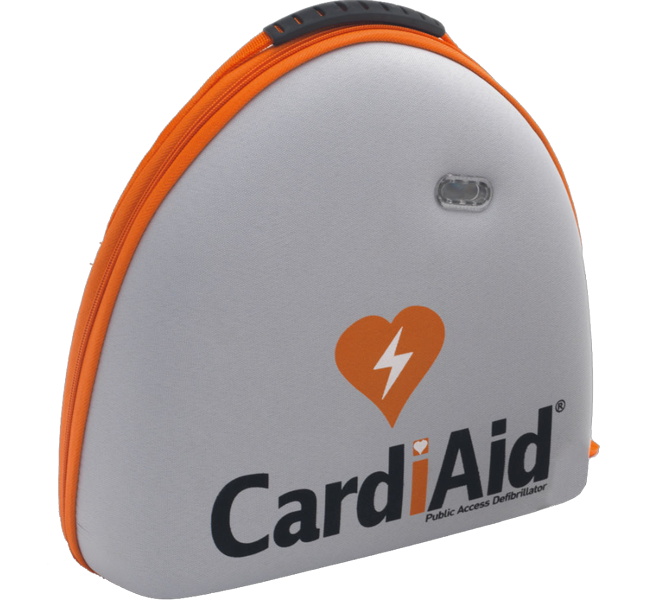 What is the usual defibrillator price?
A normal defibrillator price is between NOK 8,000 and up to 30,000. With this price level, you can get many different products. You can buy a cheap defibrillator for NOK 8,000, but this does not guarantee good functions. Some defibrillators are even sold without electrodes or batteries!
It is important to read which functions a defibrillator comes with, as well as compare products. Ask yourself; do I want to bet on a defibrillator that may not be good enough to do its job? Are there hidden costs? When it comes to buying a defibrillator, price is an indicator of quality. Choose a defibrillator that costs between NOK 15,000 and 20,000 rather than the cheapest one, and you will get a product with good functions, approved in Norway, several good reviews, and so on.
How about our defibrillator price? It's in the middle of the range, of course! But we prefer rental plans.
Why rent?
Buying a defibrillator is expensive. That is why we at Folkestarteren have chosen to sell rental plans for first aid products. This makes them more accessible to individuals and small businesses. Does the defibrillator need a battery change? We'll do it for you. Are you unsure which additional products you should buy for your defibrillator? Contact us and we will suggest the best for you and your situation.
We have had price in mind. Our products and rental plans have different prices based on the rental period/binding period. A defibrillator price is not just a defibrillator price. This involves changing electrodes, batteries and other things. You must pay attention to how the defibrillator is doing. This will cost a couple of thousand over the years. That is why we offer rental of defibrillators with all this included, as well as warranty, at a price of between NOK 500-800 per month. See our rental plans in our online store.
Are our offers not for you? Contact us and we can discuss the price and other things about our products.
Buy products for your defibrillator!
Do you need a new battery or electrodes for your defibrillator? How about a cabinet or carrying bag? We sell products for defibrillators, first aid kits and more.
The chain of Survival
In the realm of emergency medicine, the "Chain of Survival" is a critical concept that outlines the crucial steps required to save a life during a medical emergency. Comprising four essential links, this chain serves as a lifeline, ensuring swift and effective response in times of crisis. You can see the whole graphic of the chain on the right below.
The first link is Early Recognition and Activation (looking for signs of life). When someone experiences a sudden medical emergency, such as cardiac arrest or choking, swift recognition of the situation is paramount. Bystanders must promptly call 911 or their local emergency number to activate professional help. This initial step triggers a cascade of interventions that can mean the difference between life and death.

The second link is Early Cardiopulmonary Resuscitation (CPR). Immediate administration of CPR can significantly increase the chances of survival, especially in cases of cardiac arrest. CPR involves chest compressions and rescue breaths, and bystanders who perform CPR can play a pivotal role in sustaining oxygen circulation until medical professionals arrive.

The third link is Early Defibrillation. In many cases of sudden cardiac arrest, irregular heart rhythms can be corrected with the use of an automated external defibrillator (AED). These portable devices are designed for ease of use and can be operated by bystanders with minimal training. Early defibrillation can restore normal heart rhythms and greatly improve the chances of survival.

The final link is Early Advanced Life Support (ALS) and Medical Aftercare. Once paramedics or other healthcare providers arrive on the scene, they can provide advanced medical interventions and initiate post-cardiac arrest care. This may include administering medications, managing airways, and ensuring the patient is stabilized for transport to a medical facility.

Each link in the Chain of Survival is interdependent and time-sensitive. Delay or failure at any point can drastically reduce the chances of survival. Thus, public awareness, education, and training in basic life support techniques, including CPR and AED use, are crucial to strengthening the Chain of Survival. Community-wide efforts to ensure that as many people as possible can recognize emergencies and respond effectively are essential for saving lives.
In summary, the Chain of Survival is a vital framework that underscores the importance of swift and coordinated action in medical emergencies. By recognizing its significance and promoting education and preparedness within our communities, we can enhance the chances of survival and provide a lifeline to those in need during their most critical moments.
We in Folkestarteren follow these principles and base our lifesaving work on them. Help us save lives by getting a defibllirator today! See our plans here.
Have you registered your defibrillator?
Did you know that there is a defibrillator register? It is a public service by 113 first aid and is run by the health authorities. This makes defibrillators available to the 113 centers. You can find the nearest defibrillator on the defibrillator register. That is why it is important that you register your defibrillator! It can save lives. You will also find more information about defibrillators on the pages of 113 first aid.

Register your defibrillator by clicking on the image below.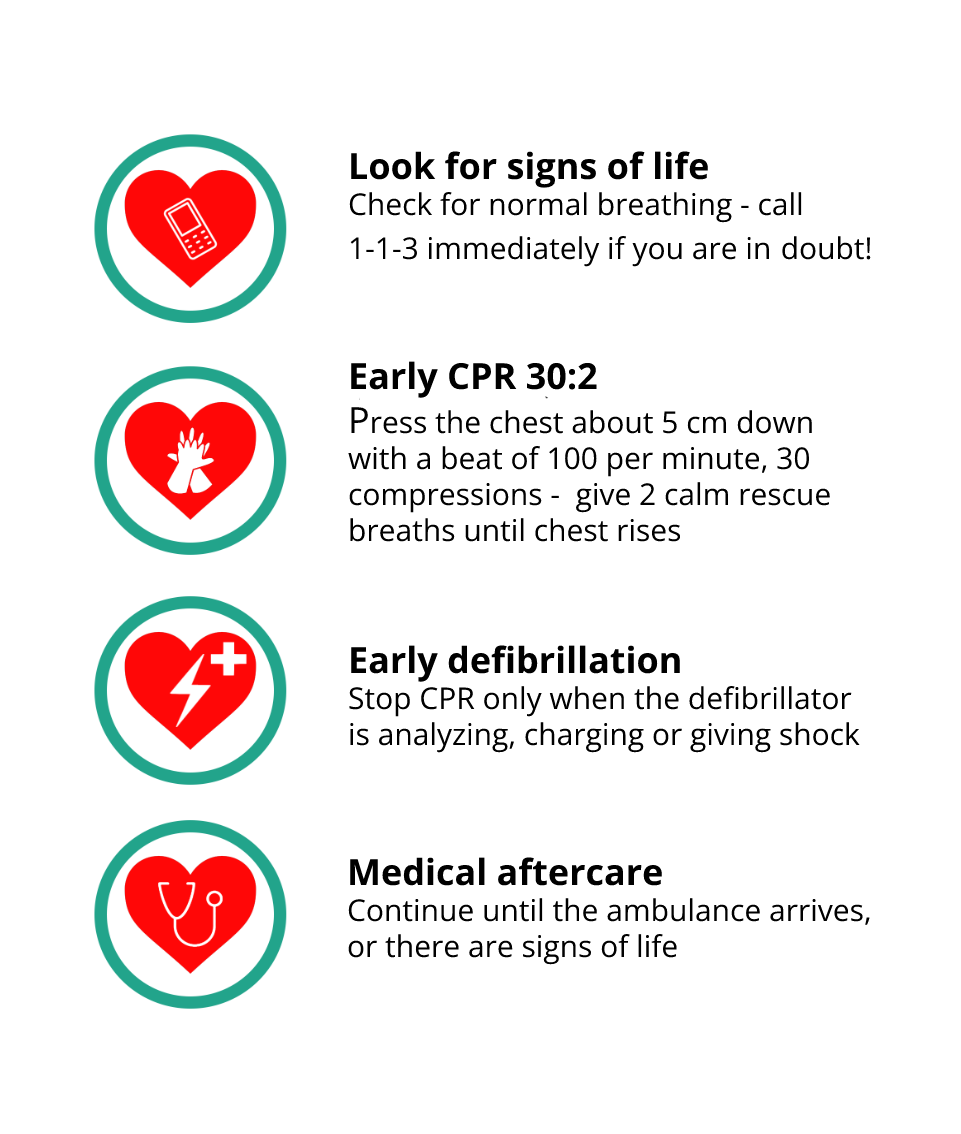 Do you need help?
We are available by phone on weekdays from 10am to 2pm. You can also send us an email or a request in our contact form and we will get back to you as soon as we can.

Do you want to recieve an offer from us? Contact us today! 👇


Cookies & Privacy Policy

We use information cookies in accordance with the GDPR. Read more in our
privacy policy
. Folkestarteren care about your privacy and want anyone who visits our website to feel safe. You can refuse cookies at any time.
Postboks 181 Bryn, 0611 Oslo